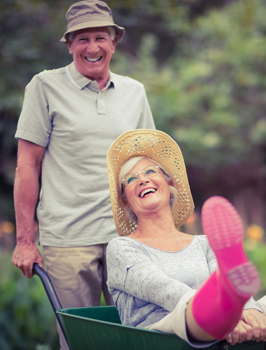 Looking to take years off your age? Getting dentures to replace missing teeth is a great way to look younger. Missing teeth often cause the mouth and face to sag, adding years to your appearance. Let's work together to determine if dentures are right for you. We'll develop a custom solution to restore your smile and your confidence.
Why Should You Get Dentures?
If you have several missing teeth, badly damaged or decayed teeth, or if all your teeth are missing in the upper or lower parts of your mouth, then dentures may be ideal for you. Dentures can also improve your ability to chew your food and speak more clearly than if you have no teeth. Missing teeth can also cause the facial muscles to become weak due to a lack of jaw support, but dentures can help strengthen your facial muscles.
Several different types of dentures and partials allow for a custom solution just right for your situation:
You might need a full denture if all your upper or lower teeth are missing or damaged beyond repair. Dentures cover the entire upper or lower gums. A partial denture replaces teeth to fill in spaces between your natural teeth. Implant dentures attached to implant posts and provide a more secure fit.
Call to schedule an appointment
, and we'll find out if dentures are right for you. We promise to give you all the information you need to make the best choice for you and your smile!