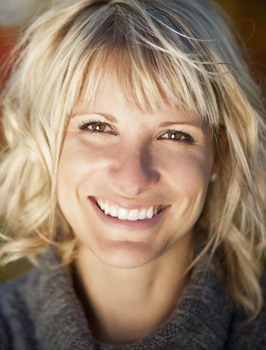 Dental veneers are thin porcelain shells applied to the surface of teeth. Veneers repair chips, discolorations, misshapen teeth, and other problems. And they look amazing! Most smile makeovers use veneers due to their natural and attractive appearance.
The Benefits of Dental Veneers
We know the importance of a confident smile. Dental veneers give you that confidence back. Their natural look restores problem areas without standing out. Veneers are custom-made to match and blend naturally with your teeth. A cosmetic makeover may involve six to eight veneers to transform your smile making it symmetrical, even, and beautiful.
Veneers resist staining and are durable. As a convenience and in consideration of your time, we may only need two visits to get you the smile you've always wanted.
Why You Might Need Dental Veneers
If you want to change your smile or repair a problem tooth, dental veneers treat many concerns:
Gaps in Teeth
Misshapen Teeth
Cracks
Chips
Discolorations
Dental veneers effectively fix gaps between teeth and conceal misshapen teeth. Cracked and chipped teeth can also be restored with dental veneers. Sometimes tooth whiteners cannot remove deep stains; dental veneers can offer a solution in these instances. We'll help you determine if you're a candidate for veneers.
Get Your Hollywood Smile Right Here in Lebanon, IN
If you have a dental situation that needs to be addressed, please do not hesitate to call us or schedule an appointment online!